3 CAPITAL REAL ESTATE
Consultants, Developers and Asset Managers with more than 20 years of experience
ITEM FITCH // BRIC CONSULTING // VANGUARD STUDENT HOUSING
THE UNION OF 3 LARGE COMPANIES FROM THE REAL ESTATE SECTOR
Our origins…
We offer a 360º solution for those companies looking for a better return and control of their investments.
ITEM FITCH
Item Fitch offers a wide range of professional services related to real estate.
Consulting
Experts in the residential, office, commercial and industrial segment.
It combines commercial and strategic experience as a result of the long history of its team of real estate professionals. Using their market and financial knowledge, ItemFitch is able to offer practical and creative advice which aims to maximise asset value and develop the real estate activity in the best conditions.
Promoter
Promoters since 2000. We have the equipment and technology to develop and promote anywhere in Spain. Experts in feasibility analysis, with an emphasis on our market studies and control of construction costs. We work under two models: own and delegated promotion.

BRIC CONSULTING
One of the founding partners of 3 Capital is a leading Spanish hotel consultancy firm and the only one not to have been franchised by an international group. It therefore represents one of the strongest specialisations of our firm. We advise on all types of transactions, whether they involve intermediation, operator selection or the structuring of more complex businesses.
We have a dynamic and multidisciplinary team, with extensive knowledge of the sector and oriented to achieving the best results, with a proactive attitude and methodology. We offer a personalised approach, with dedication, involvement and commitment to the client through direct and fluid dialogue with the main actors in the sector.

Barcelona Student Housing
Vanguard Student Housing is the leading company in Barcelona in the segment of room rentals for students in residential buildings. With over 15 years of experience it manages 400 student beds, which are distributed over 4 buildings and several individual apartments.
Vanguard Student Housing carries out the integral management of these residential assets, offering the property higher yields than those normally found in the LAU market. This model offers great flexibility by not conditioning the performance of the building to 7-year contracts with different maturities.
We offer investors the search for assets, their rehabilitation / adaptation to the model of student flats, and their subsequent commercialisation to this market segment.
We are proud of what we represent to our customers. Here are some of our numbers: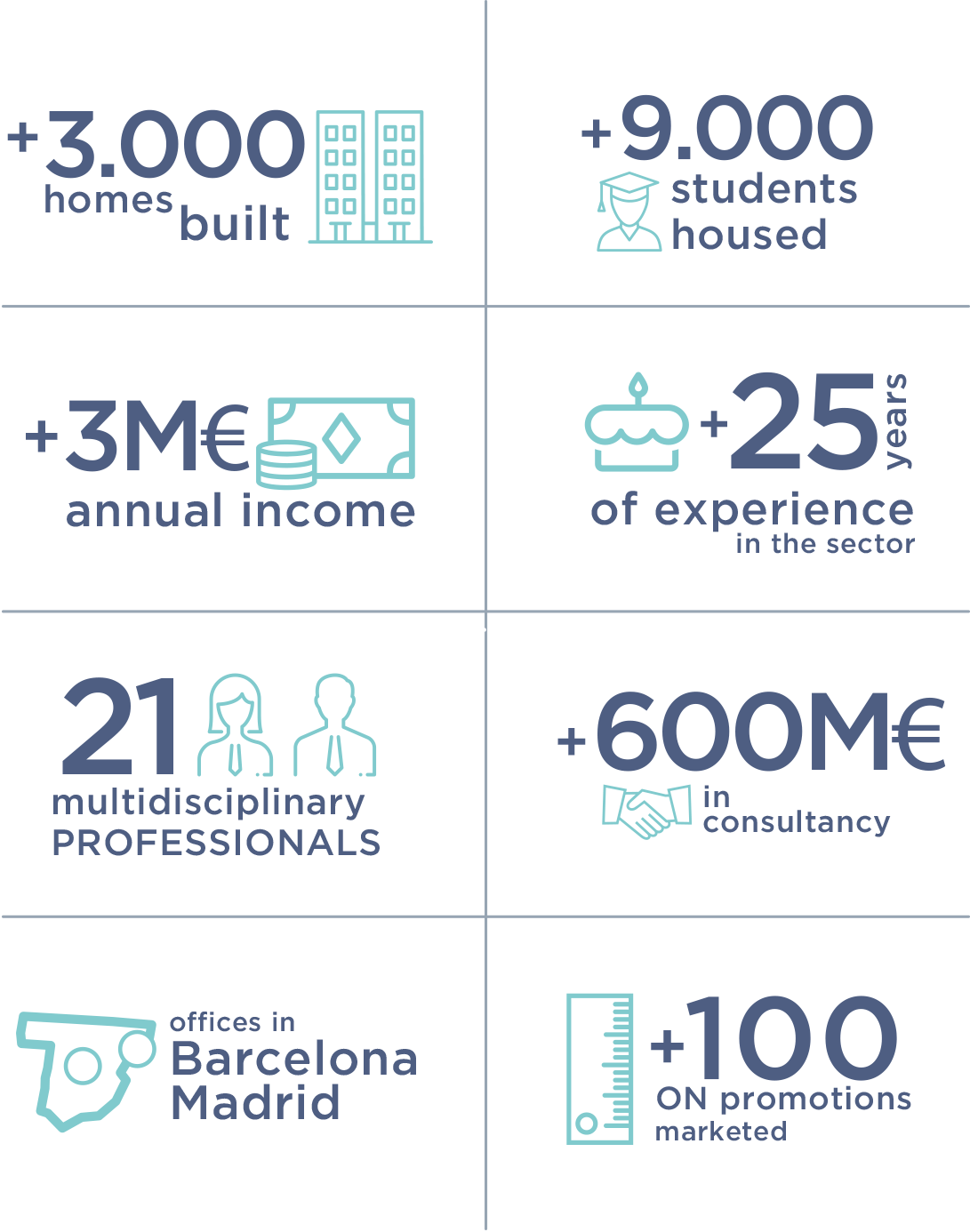 We are involved in all the strategic processes linked to the real estate sector so that we can give the best advice to our clients. We seek and propose solutions to highly complex situations, providing value in each case to achieve the client's desired objective.
BUSINESS AREA
Due to the proximity to the non-real estate company, we would like to be the real estate arm that helps you make the best decisions in an area which you may not be familiar with.
We have a close relationship with the best architectural firms that allow us to provide the best support in any operations linked to changes of location or similar that arise in the company.
FINANCIAL INSTITUTIONS
We analyse portfolios and assets owned by financial institutions in order to propose a strategy for the management and/or divestment of real estate assets.
To do so, we focus on:
– Analysing the assets in-depth
– Proposing a Business Plan that contemplates the different alternatives which allow profit maximisation.
– Establishing a management plan and/or exit strategy and sales process.
INVESTMENT FUNDS
We would like to be the local partner of those investment funds with interests in Spain.
We accompany them throughout the decision-making process related to real estate activity, combining our knowledge of their modus operandi with that of the local market.
To do this, we focus on:
– Assessing the opportunities of interest.
– Studying both the supply and demand of the market.
– Preparing the appropriate Business Plan for each asset with special attention to the execution schedules.
CAPITAL MARKETS
We accompany clients in investment and disinvestment projects of all types of assets and real estate portfolios, carrying out an in-depth asset, market, urban, financial and technical analysis.
We are specialists in off-market and highly complex operations.
AGENCY
We provide specialised advice to property owners and users in all matters relating to the contracting of their real estate assets, with special experience and skills in the hotel sector.
Marketing
We develop customised strategies for each type of asset.
To do this, we focus on:
– Defining the marketing strategy.
– Establishing possible alliances.
– Preparing the Marketing Plan.
– Detailing potential customers / operators interested in the asset.
– Providing advice during the whole process of negotiation and closing.
Advice to users
We accompany our clients in their search and expansion.
To do this, we focus on:
– Analysing all the needs of our clients.
– Selecting the best locations and assets for them.
– Analysing the viability of the operation.
– Advising during the entire negotiation and closing process.
URBANISM
The complexity of many of the urban development issues leads us to analyse these projects from all possible angles, knowing the difficulty that this type of project has in terms of schedule management.
Property management
In many cases the management of the timeshare in these projects is key to their success which is why we accompany our clients in all management issues related to aligning the interests of all the owners so that planning flows in the best possible way.
Urban planning
We analyse the real situation of the asset and program the necessary steps to achieve each of the urban milestones in accordance with current legislation and the procedures set by the Administration.
Master plan
We study the different options regarding the real estate development of a plot of land, raising different scenarios of visibility, its consequences and implications, schedules and scenarios of cost / investment and final profitability.
CORPORATE FINANCE AND DEBT ADVISORY
We provide advice on the whole decision-making process related to real estate transactions, and in particular on the development of financing structures for real estate projects, the search for investment partners, mezzanine-type debt transactions, joint ventures or participatory loans.
We also advise on the purchase and sale of performing and non-performing debt.
HOTELS
Commercial Services
Operator selection and asset marketing for independent owners:
Our team is in permanent contact with the main operators and investors in the sector, both Spanish and foreign, as well as consolidated and newly created hotel groups, having knowledge of their management and investment needs. No two assets are the same and no two hotel chains are identical.
For this reason, we analyse each property independently and resolutely manage the search for the manager whose characteristics, solvency, operational know-how and positioning best suit the circumstances, accompanying and defending the interests of the owner throughout the process until the signing is achieved.
Support for the expansion of new or consolidated hotel chains
In a highly competitive market like the present one, it is when more experience, information, means, and imagination are needed. Starting from the principle that the opportunities that come to market are neither sufficient nor necessarily the best, 3 CAPITAL provides the real differentiating factor by applying a proactive attitude and methodology for identifying business opportunities.
Our team has accumulated extensive experience, having successfully developed specific expansion programmes for different hotel chains.
In line with the established strategic and time objectives, 3 CAPITAL will identify the best business opportunities for the client, especially those that are not yet being commercialised, which will allow the client to maximise the competitive advantage through anticipation. This will increase the possibilities of choosing what we want and not what is available.
Searching for and attracting capital:
The analysis and search for leverage and ad hoc financing for each project is a fundamental element for visualising and maximising the return of any investment in the hotel sector.
Our team is in contact with the main players in the capital market, thus providing the necessary market knowledge for the correct achievement of the set objectives:
– Private investors and private equity
– Family offices
– Investment funds
– Banking entities
– Seed capital
Marketing and outsourcing of complementary spaces associated with hotels.
Our work is focused on the outsourcing of all those business units associated with hotels that can be independent and managed by a third party. In each case we select the most suitable candidate and specialist, all with the aim of providing a better quality of service for the client and greater real estate profitability for the hotelier or owner.
– Restaurants
– Bars
– SPA areas
– Gym…
Hotel Consulting
Market studies
They are an excellent tool which aid the decision-making process for tourism or accommodation.
Its aim is to analyse the behaviour, location and perspectives of specific areas and markets (countries, cities, districts, neighbourhoods, streets, specific geographic areas, etc.) and offer valuable quantitative and qualitative data regarding all the relevant elements of the study:
– Business Competitiveness, Attractiveness
– Accessibility and transport
– Public policies to promote tourism in the area
– Seasonality
– Issuing markets
– Analysis of the demand
– Average stays
– Presence of direct and indirect competition
– Evolution of hotel indices (RevPAR, GovPAR, ADR…)
Feasibility studies, conceptualisation and definition of hotel projects
This tool and fundamental analysis are carried out prior to the gestation of a new hotel or tourist project. Our viability studies allow us to identify the market niches that the new project will be able to target and make it easier for establishments that need to reposition themselves in the face of a changing and demanding market.
Optimal business model:
Conceptualisation of the best possible business model, with definition and study of multiple elements by business area.
SWOT analysis:
Evaluation of the weaknesses, threats, strengths and opportunities of the project.
Economic viability:
Study and estimate of revenues, costs and profitability of the operation
Strategic repositioning and change of use of hotel assets
Study and analysis of the suitability and adaptability of a use to the current market situation, as a strategy for value creation. In the case of repositioning and/or change of use, we will provide advice and management for said strategic process and/or change of use for tourism or accommodation.
Valuations:
Real estate valuation:
Real estate valuations of tourist and hotel assets (individuals and portfolios) of any kind: hotels, youth hostels, resorts, residences, land for hotel use, etc.
Financial valuation:
Valuation of financial statements and audits of tourism companies (hotel chains, hotel asset funds, tourist properties belonging to banks, etc.)
Hotel Due Diligence Services
The aim of these services is to make it easier for the hotel operator to transition and take possession of a new hotel establishment, minimising problems and possible unforeseen events, by means of exhaustive and complete field work and research in different areas of the hotel by specialised and qualified personnel.
Our due diligence services include and monitor the following areas
Legal due diligence of the asset:
Charges, pre-existing legal proceedings, verification of permits and licenses, etc.
Operational business due diligence:
Carrying out a complete inventory of the establishment, supplies and contracts, verification of current sanctioning files, etc.
Labour due diligence:
List and organisation chart of employees, pending litigation, leaves of absence, social security, etc.
Technical due diligence:
Visual inspection, verification of a …
Legal and business advice
Advice on hotel contracts:
Comprehensive legal advice on hotel contracts: purchase and sale, rental, management, franchise, marketing, etc.
Advice on renegotiation:
Advice, assumption and management of contractual renegotiation processes and/or renegotiation of rents
Mystery Guest
The "mystery customer" tool is used to improve the quality of service and customer care and has been specially designed for the hotel sector. Incognito auditors provide a complete and objective evaluation of the hotel guests' experience: telephone and online booking, reception, common areas, infrastructure, etc.
REPORT AND COMPLETE ANALYSIS OF MORE THAN 300 ELEMENTS.
RESIDENTIAL
One of the company's founding partners is Item Fitch, a company which specialises in the intermediation and valuation of all types of residential buildings, a task that is reinforced by its participation in a small developer, which gives 3 CAPITAL the capacity to value residential assets, both from the perspective of product profitability, with or without capex, as well as the valuation of development projects.
3 CAPITAL's organisation chart also includes a marketing company and a company that manages residential assets.
All of these elements allow 3 CAPITAL to offer 360º advice on all residential assets.
RETAIL
3 CAPITAL pays special attention to the retail segment and has the capacity to address each of the situations specific to this market.
Advice and accompaniment in the search for the best commercial operator.
Proposal of alternatives for those premises which, due to market rules, have been left out of the commercial circuit.
Marketing of both profitable and empty premises.
Valuation of commercial plots, both in terms of their sale and proposals for business plans, either from previous phases that require urban development procedures, or on finalist plots of land.
Advice on premises in prime areas and on commercial land which require a value proposal.
OFFICES
3 CAPITAL advises and accompanies the development of tertiary projects for office use, as well as the search for institutional investors for profitable assets.
3 CAPITAL has specialised in the co-working market niche, both in the search for assets to promote for this investor profile, and in agreements to operate offices with this operator profile.
STUDENT RESIDENCES
We advise and accompany the whole process of detection, analysis and valuation of this type of operations, as well as the search for the best operator for each of the plots of land for sale, by knowing the type of product that the various operators are seeking.
3 CAPITAL has been developing residential developments throughout the country for over 20 years. It detects investment opportunities and manages them entirely until the returns foreseen in the feasibility study are reached. It has a clear vocation not only to advise and accompany the decision-making process in the acquisition of any type of asset, but also to get involved in the development of value-added projects by providing experience, management and capital.
3 CAPITAL structures investment operations in different segments where the company itself co-invests while taking responsibility for the management of the entire process of enhancing a real estate asset in the development of a plot of land or a rehabilitation.
3 CAPITAL prepares and manages the whole business plan, thereby ensuring the returns set out in the initial study. It takes on the role of Project Manager by seeking to optimise construction costs through the maximum packaging of construction items and avoiding a "turnkey". It is in charge of following the economic and financial plan of the project and periodically reports to the investor. Finally, it is in charge of marketing, ensuring the optimal sales rate as well as price indexing if the market evolution allows it.
OWN PROMOTION
Projects in which we structure and capitalise the investment vehicle ourselves.
DELEGATED PROMOTION
Projects in which we act as Project Managers guaranteeing the best control and monitoring of the business plan and the execution of construction work and marketing.
We have a multidisciplinary team of great professionals who are experts in the field of real estate sales, rentals and marketing.
With more than 20 years' experience in marketing new builds, we manage the entire value chain and make the best proposals for each project. To do this, we carry out prior studies of the market and potential demand which allow us to define the optimal product, pricing and sales pace.
We then plan the precise sales channel. We use the pre-marketing to start our management and confirm the defined strategy. We have an expert team in direct marketing who have extensive experience in SEO, SEM and RRSS positioning as well as a unique metrics tracking and reporting system that allows us to analyse results and make comprehensive forecasts. To do this, we have the best technological tools for digital marketing which ensure the best showcase and advertising for each project.
Beethoven, 15 7p · 08021 Barcelona
T. +34 93 365 71 36
C/ Dos, 4 Ático A · 28024 Madrid
T. +34 91 255 88 65